Segafredo Mild is a blend of Arabica and Robusta beans. Only washed beans are used, they are roasted slowly and gently to extract bitter acidity from the beans.
Slideshow
Other top rated products
4.9 star rating
11 Reviews
Thank you for posting a review!
We value your input. Share your review so everyone else can enjoy it too.
Thank you for posting a review!
Your review was sent successfully and is now waiting for our staff to publish it.
Thank you for posting a question!
Please click on the link in the confirmation email we just sent you to submit your question.

Your question will appear on the site once someone answers it.
Italy Followed Us Home
Review by John W. on 10 Jun 2019
review stating Italy Followed Us Home
While spending the month of May in Italy for the third year in a row, we did some serious coffee research. We sampled cappuccino and espresso macchiato at highly reviewed coffee bars in Tuscany, Umbria and Cinque Terre. We also attended the Giro d'Italia bike race and watched every stage. In Viareggio on the Tuscan Coast we finally put it all together.

The best coffee we had this year was consistently Segafredo Extra Mild. We also thought the new Segafredo cup and saucer design was the coolest we had ever seen in Italy, using a plain white background to highlight a stylish red S pattern. We managed to ask the staff at our two fav coffee bars in Viareggio if we could buy a kilo of whole bean espresso and two sets of cups and saucers. We bought the coffee and they gifted us the cups.

Now all we had to do was brew up some cappuccinos and espresso macchiatos for the fam when we returned from Tuscany. Everyone loved the sweet mild flavor of the coffee and the stylish cups. We began to run low on beans, so I ordered two more kilos of the Segafredo Mild whole bean coffee. I couldn't believe it arrived in only 5 days to Portland, OR. It was just as sweet and full of flavor as the bag from Viareggio!

Now we can enjoy our Italian cappuccinos and espresso macchiatos brewed on our Italian espresso machine in the luxury of our family room all year long. In addition, we get to watch our fav Trek-Segafredo cycling team at the same time! What could be better?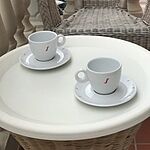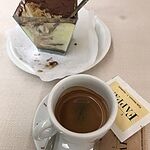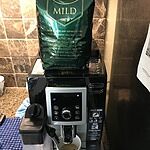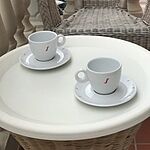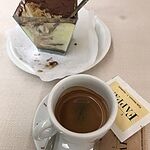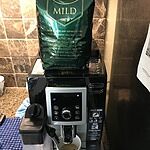 On Segafredo Mild Whole Bean 2.2 pounds
Super Segafredo Mild
Review by John W. on 20 Jul 2020
review stating Super Segafredo Mild
Ever since discovering Segafredo Mild in Viareggio, Italy in May of 2019, we have been addicted to its rich flavor and delicious crema in our morning cappuccino. In fact, the flavor is so fantastic that our children and grandchildren regularly come to grandma and grandpa's house to enjoy it. We love its consistency: every cup is rich, creamy and flavor filled. We also appreciate 1st in Coffee, the efficient company that regularly ships us 4 kilos of whole beans. Amazingly, the beans arrive in only 8 days, shipped free, and tasting as if they were roasted the day before. Since we can"t go to Italy at the moment, we love the fact that 1st in Coffee brings Italy to us, every morning.
On Segafredo Mild Whole Bean 2.2 pounds
R
Richard S.
5.0 star rating
Best Espresso Beans Ever!
Review by Holly J. on 8 Jun 2020
review stating Best Espresso Beans Ever!
I recently purchased Segafredo mild whole bean for my Breville machine and the taste is amazing! My lattes taste fantastic! I usually use Starbucks espresso whole bean, which I really like too, but Segafredo is a bit more mild and has a smoother taste. I definitely recommend Segafredo mild whole bean to all espresso drinkers... you won't be disappointed!
On Segafredo Mild Whole Bean 2.2 pounds
M
Margie H.
5.0 star rating
I Love 1st in Coffee
Review by Margie H. on 2 Sep 2019
review stating I Love 1st in Coffee
They have the best selection of high-quality coffees with prompt delivery.
On Segafredo Mild Whole Bean 2.2 pounds