Key Features:
Simple operation
Thanks to the one-switch operating concept of the smart Rotary Switch and the 11-language plain text display, you are just one touch of a button away from the perfect cup of coffee. The machine is also designed to be easy to program and care for.
---
Height-adjustable coffee spout
The height of the coffee spout can be adjusted between 2.6 - 4.4 inches to allow any size of cup to be used, from small espresso cups to large coffee cups. This prevents the coffee from splashing on the machine and produces a perfect, velvety crema.
---
Fine foam frother
The revolutionary fine foam technology ensures unique milk foam quality with a fine, feather-light consistency. It's the perfect way to give the finishing touch to your favourite beverages.
---
Compact elegance
The Jura C65 Impressa is a combination of striking clean lines, compact dimensions, high-quality materials and uncompromising workmanship. Compact enough to fit anywhere, it cuts a striking figure with matte and gloss surfaces in understated black.
---
Slideshow
Other top rated products
4.9 star rating
32 Reviews
Thank you for posting a review!
We value your input. Share your review so everyone else can enjoy it too.
Thank you for posting a review!
Your review was sent successfully and is now waiting for our staff to publish it.
Thank you for posting a question!
Please click on the link in the confirmation email we just sent you to submit your question.

Your question will appear on the site once someone answers it.
I
Ingeborg C.
5 star rating
The perfect machine, the perfect service!
Review by Ingeborg C. on 8 Sep 2019
review stating The perfect machine, the perfect service!
I finally had the courage to spend BIG on a coffee machine I've wanted for months. I had a great conversation with customer service first to help me choose according to what my needs/wants are. The machine has basically been working non-stop to satisfy my coffee habit since it's arrival. I experienced my first Jura machine at my sister's house in February and have wanted one since. I am not disappointed, in fact quite the opposite. This machine is well worth the money and does everything I want it to. The coffee is amazing and cleanup is a breeze. It may be refurbished, but it looks like it's brand new!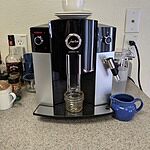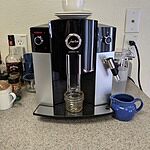 On Refurbished Jura Impressa C65
Carrie's Coffee Corner
Review by Carrie H. on 29 Aug 2017
review stating Carrie's Coffee Corner
Well I've had my Jura Impressa C65 for 2 weeks and I am finally starting to enjoy my super automatic. It takes some practice but once you get it, the coffee is great. I love the product and customer service seems to be on point. Thanks 1st in Coffee. I'll be referring some business to ya!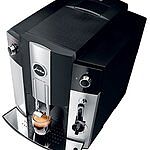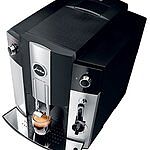 On Refurbished Jura Impressa C65
Just a great machine.
Review by Glenna A. on 9 May 2020
review stating Just a great machine.
We purchased a refurbished C65 because my daughter had one, and we wanted the same machine. We received it in short order, but the grinder didn't work. The machine was like new, and would work with ground coffee, I just couldn't get the grinder to run. We returned it to Jura with 1stincoffee's help and it was again back to us in an amazingly short time. Just like all the reviews, this is a great machine, and we are in the process of tuning it in to make our coffees the way we like them. The customer service from both 1stincoffee and Jura have be exemplary.
On Refurbished Jura Impressa C65
The machine works great and
Review by Avery T. on 26 Sep 2019
review stating The machine works great and
The machine works great and looks brand. I would highly recommend.
On Refurbished Jura Impressa C65
Very happy....great decision
Review by Paul S. on 22 Sep 2019
review stating Very happy....great decision
Not a coffee expert but really wanted to improve the quality of my twice daily cup of Joe and move away from the expense and environmental impact of Illy pods. Spent a long time researching super automatic machines and opted for the refurbished Jura C65.

So far very happy....after a small amount of time learning how to operate it (some good online videos exist for this) I was off. The quality and flavor is a night and day difference to my previous option and the machine looks great in our recently renovated kitchen.

I purchased from 1st for Coffee as they offer the 1 year warranty on refurbished machines and the reviews by other customers were excellent. My machine seems no different to a new one except it didn't arrive in an original box and it was missing a small milk frothing attachment (it did include the long one). Neither deal breakers. Otherwise for over $300 saving over new, we'll worth buying a refurbished machine.

Now trying to figure out which beans suit my palette and tinker with the grinder options to improve the experience even more.
On Refurbished Jura Impressa C65