Key Features of the Refurbished Jura Impressa C60:
Incorporates the Intelligent Pre-Brew Aroma System.
A stainless steel thermoblock heating system offers two brewing temperatures.
A high pressure pump produces great flavor and crema and the fine foam technology adds a flavorful milk foam finish.
The Clearyl Blue filter cartridge removes impurities from the water in the espresso machine to improve flavor.
Ease of Operation
The Refurbished Jura Impressa C60 coffee maker operates with the flip of a switch. Use the rotary switch and 11-language plain text display to select the specialty coffee you want, push the button and watch the machine whirl to life creating the perfect brew. The Jura C60 was designed to be simple to maintain, too.
---
Reach New Heights
A height-adjustable coffee spout can be moved between 2.6 and 4.4 inches to accommodate cups in a range of sizes. Go ahead and use the Jura C60 Impressa espresso machine to brew espresso in a small cup or latte macchiato in a tall glass. The bonus: A height-adjustable spout prevents splashing and produces an amazing velvet crema.
---
Fine Foam
Jura pioneered fine foam technology to create milk foam with a feather-light consistency. All it takes is the push of a button to top your favorite specialty coffee with professional quality milk foam.
---
Efficient Elegance
A combination of sleek lines, premium materials and uncompromising workmanship are part of all Jura machines and this one is no exception. The Jura C60 Impressa coffee maker is compact enough to fit in a small space and the matte and gloss surfaces ensure it's still big on style.
---
Slideshow
Other top rated products
4.9 star rating
159 Reviews
Thank you for posting a review!
We value your input. Share your review so everyone else can enjoy it too.
Thank you for posting a review!
Your review was sent successfully and is now waiting for our staff to publish it.
Thank you for posting a question!
Please click on the link in the confirmation email we just sent you to submit your question.

Your question will appear on the site once someone answers it.
Oh my, how wonderful
Review by Julie N. on 27 Feb 2019
review stating Oh my, how wonderful
When I started. Looking for a new coffee maker I didn't realize how wonderful coffee could be. And how easy it us to make. It jjust perfect! Im so glad i did purchase this machine and thank you for the oppurtunity to own it buy selling refurbished models. It runs great.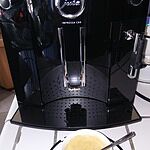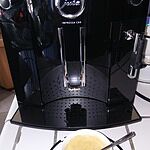 On Refurbished Jura Impressa C60
Best purchase
Review by Tyrone W. on 29 Nov 2018
review stating Best purchase
This is the best purchase I have made in a year. This coffee machine is awesome. Great coffee ☕️ brewed every time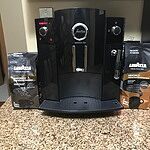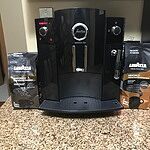 On Refurbished Jura Impressa C60
Impressa C60
Review by Stuart T. on 9 Oct 2018
review stating Impressa C60
Great machine! Just like new, love it! Every bit as good and easy to use, convenient as I was hoping. I would recommend it with any reservation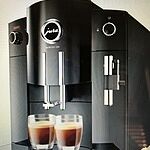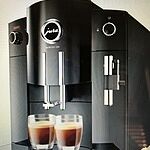 On Refurbished Jura Impressa C60
Very impressed with the machine and 1st
Review by James J. on 18 Sep 2018
review stating Very impressed with the machine and 1st
Jura products are quality, top of the line. 1st made it easy to order and shipping was fast. I love this machine and will recommend it and 1st to everyone I know.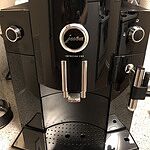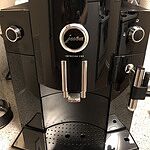 On Refurbished Jura Impressa C60
Better Than Before - Hotter Coffee and Better Espresso
Review by John O. on 3 Nov 2017
review stating Better Than Before - Hotter Coffee and Better Espresso
My 14 year old Jura E8 had given up the grinder, so I did some homework and found that the nearest equivalent was the C60/65. I didn't need all the extra features of the current Jura E8, and the inside pumps and heaters are the same.
I was pleasantly surprised that the C60 has a stronger coffee setting ("Extra") and a hotter heater, although that may be that my older machine had more scale which reduced the heat. The frother tube works very well for cappucino/latte milk, but requires cleaning each use so I don't use it often.
The biggest surprise was the quality of the espresso; on a par with my Nespresso machine/capsules. I switched to Lavassa Super Crema medium roast coffee beans (I believe the reason my old E8 grinder died was that I had used Peet's Dickason blend, which is an oily roast). The Jura C60 espresso is very good, much better than I expected from an automatic machine! I still prefer the selection of Nespresso capsules, but the Jura makes a very good espresso, along with excellent coffee!
Conclusion: the C60/65 is the most convenient and best coffee maker for daily use (once you set up your programming it is a one-push operation in the morning)! With a little more effort it makes a very good espresso/cappucino/latte, and this machine will keep you out of Fourbucks forever.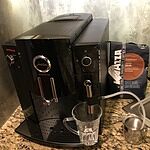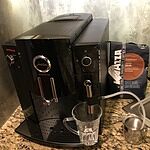 On Refurbished Jura Impressa C60
Q: I want to know if it's espresso machine? Do you have video?
A: It is almost totally an expresso machine. I saw the video.
Thanks:
Nancy
Was this answer helpful?
0
0
Q: It is best not to use oily coffee beans with this machine. The type of beans I generally use for espresso are oily, such as Italian Roast or Espresso Roast beans from Starbucks. Is there a type of bean or brand that you recommend for this machine.
A: We love our coffee from the Jura Impressa c60 . We use a robust type of bean, and if it happens to be particularly oily, we spinkle the the beans with a light shake of ground cardamom , recommended to us years ago by a Dutch coffee broker.With that, the beans have no problem feeding into the grinder, adds great flavor to the coffee too!
Was this answer helpful?
0
0
A: Unfortunately, I have not installed it yet. I do use oily benas myself, so I hope theyare not an issue for the machine.
Was this answer helpful?
0
0
Q: Had it a few days, it was making great coffee, espresso, cappuccino, etc. This morning made two cups of coffee, then got a signal to Open Switch. Read the directions online, opened the steam switch, closed it, and tried to make coffee. Wouldn't do it. Got the same message. Repeated this process three times. I even tried shutting the machine on and off. No luck. Between the 3rd and 4th try, the machine instructed me to clean out the grounds. I had already done that, but pulled the tray out. I found that the machine was grinding the beans on the first three tries, BUT not making coffee. It would then tell me to Open Switch. Anyway, on the 4th try, it made coffee. Does anyone know why the Open Switch signal comes on, and what prompts it? My wife and I really like this Jura, but we've only had it a few days and so we are concerned. It does have the one-year warranty. Anybody else with similar experience?
A: I went back and looked at the manual pdf. It looks like the machine thinks there is a new filter in the water tank wants to run some water through the filter in order to clear out any sediment (as you would with a Brita filter). I believe we did this during set up of our machine (its been a few weeks, so I can't remember this step explicitly).

Take a look at the section titled "First-time use with filter cartridge activation" at the bottom of page 11 and continuing on to page 12.

I would just follow these instructions and see if that takes care of it. We really love our machine and wish we had purchased it a year or two ago.

Here is a link to the manual:

https://us.jura.com/-/media/global/pdf/manuals-global/home/IMPRESSA-C60-C65/download_manual_jura_C60-C65_ul.pdf?la=en&hash=A918AF729D1132A17AF6A80C45F95D8CCC692ACE&em_force=true

Hope that helps.
Was this answer helpful?
0
0
Q: Will this machine brew both coffee and espresso? If not do any of the Jura machines do this. I have a kuerig but would love a better coffee than that as sometimes I am in the mood for a regular cup of Joe!
A: Yes, it can do 1 to 8 ounces, one or two cups at a time.
Was this answer helpful?
0
0