Features of the Capresso CM300 Coffee Maker:
10 Cup, 50 oz, stainless steel thermal serving carafe
1000 watt heating system.
Brews 10 cups of coffee in under 9 minutes for maximum flavor and aroma.
Drip stop allows you to pour coffee during the brewing cycle.
Permanent GoldTone filter included.
Charcoal water filter (#4440.90) and electronic water filter replacement indicator
Water level indicator.
Push button swing out filter
24 hour programmable clock / timer
Special setting for 3 to 5 cups
Safety shut-off after brewing
Concealed cord storage.
CM300 Capresso thermal coffee maker dimensions: 14.5" H x 7.5" W x 10" L
Slideshow
Other top rated products
4.8 star rating
65 Reviews
Thank you for posting a review!
We value your input. Share your review so everyone else can enjoy it too.
Thank you for posting a review!
Your review was sent successfully and is now waiting for our staff to publish it.
Thank you for posting a question!
Please click on the link in the confirmation email we just sent you to submit your question.

Your question will appear on the site once someone answers it.
Nice replacement to it's 20 year old predecessor.
Review by Carol G. on 23 Mar 2020
review stating Nice replacement to it's 20 year old predecessor.
I bought the CM300 as a replacement for my 1999 Capresso 471 that has performed wonderfully for the past 20+ years. The CM300 makes a near replica delicious pot of coffee, while not taking up as much counter space (I seldom used the steam on the 471) I have to tell you - if this new little guy lasts half as long, it will be impressive - I love the one it is replacing, and commend your company for affiliation with a company that put out a product that can take on daily use for over two decades. I have attached a picture of the two of them. Let me know if you want the 471 for your museum - it still works, but has finally begun to leak a bit, and has an electrical issue with the on/off function - I still love it. Please forward to Capresso that it was the best product experience of my lifetime.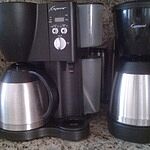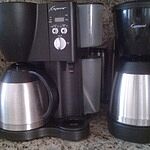 On Capresso CM300 Programmable Thermal Coffee Maker
Pretty darn good
Review by scott d. on 30 Jun 2020
review stating Pretty darn good
I purchased my first Capresso to replace a Zojurushi that I really liked and would have bought a replacement for but my old machine has been discontinued. I like the squat caraf that comes with this machine and the lid for it better than my older, more expensive Zoj.. My only complaint on this one is the spring loaded release button to swing out the grounds holder. I'm concerned it is the weak link of this machine but hopefully not.. As it stands I'm pleased with this new machine
On Capresso CM300 Programmable Thermal Coffee Maker
Where have you been all my life?!
Review by Fabien C. on 4 Jun 2020
review stating Where have you been all my life?!
So far it works great! Coffee is freshly brewed and it's simple to use. The price is very competitive. No need for the fancy stuff. This coffee will taste the same.. Maybe better! ☕👍😉😊
On Capresso CM300 Programmable Thermal Coffee Maker
best coffeemaker
Review by Carol M. on 28 Feb 2020
review stating best coffeemaker
This is my second one and the first one is still working but I noticed some signs it was dying. I was not willing to go without at the last minute so I purchased a new one. I have gone through many coffeemakers and this one has been the best so far.
On Capresso CM300 Programmable Thermal Coffee Maker
Q: I would like to return my coffee maker. I spoke to your customer service techs and followed their recommendations. My complaint was that the coffee was not hot. They suggested making a full pot. This worked but I did not need 10 cups. I would be throwing 4 cups away daily. Not an option. I filled the carafe with hot water prior to brewing. This helped on first cup but was still no where near hot and the second cup was barely warm. Thank you. I am very sorry about this purchase. I bought a $30.00 Bella coffee maker at Walmart and am quite pleased with it.
A: We have had a couple of Capresso coffee makers in the past and don't feel this carafe is nearly as good so I agree about coffee temperature. One odd telltale characteristic is that after brewing the bottom is really hot as though there is a heat plate. We find it just okay but we make ten cups at a time and drink it within a short period of time. Overall the coffee maker is a step down in quality compared to their earlier products.
Was this answer helpful?
0
1